Customers will often ask us "How much will it cost to set up Leahy software"? One thing that affects the setup time drastically is the type of file Leahy software is expected to work with.
How much does it cost to set up Leahy Software?
When it comes to working with files, we do not need any particular layout. We just need a consistent layout for every row in the file. So if column number 7 is the check number, then it always needs to be the check number no matter what. The only exception is the top of the file can have as many header rows as you want (usually the column names). Anything after that is supposed to be data.
Let's look at some examples below. These are actual real bank files, but they are hooked up to a test Macola® database so they do not contain any sensitive data. Since these layouts are consistent for every record, we can easily tell our software "Hey, column # 4 is the check number, column #6 is the check amount, and column #1 is the invoice #". Not only is it easy for us to use the settings in our software to make it understand these files, but the files are also easily readable by human beings.
Making sure your files are formatted correctly saves time and money. If you personally cannot understand the file then there is a good chance Leahy software will also have difficulty reading it.
Please take a few minutes to look at the easy formats below. Everything shown below was set up using Leahy software for one or several customers and it was a piece of cake.
Lockbox: Wells Fargo 
Notice how check #332258 from Walmart for $5,572.50 is being split over 3 different invoices.

Lockbox: Unknown Bank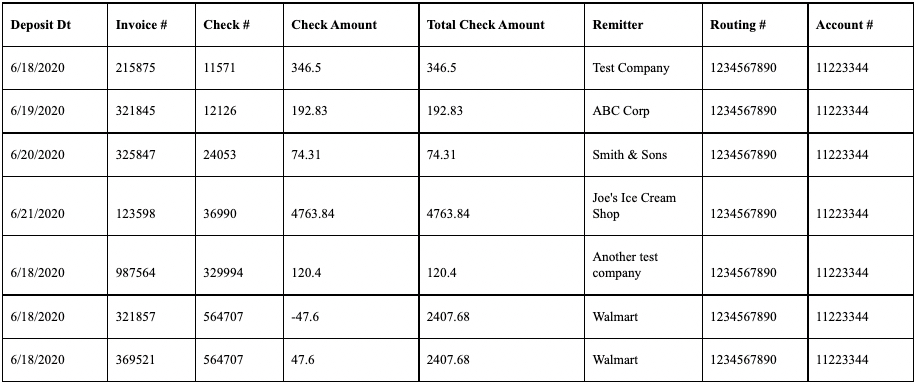 Lockbox: Home Depot Remittance File
Do not be intimidated by this layout. The columns we care most about are Invoice# or PO#, and Transaction Value.

Lockbox: Unknown Bank

Positive Pay: Bank of America Merrill Lynch 

Positive Pay: Pinnacle Bank 

Positive Pay: Wells Fargo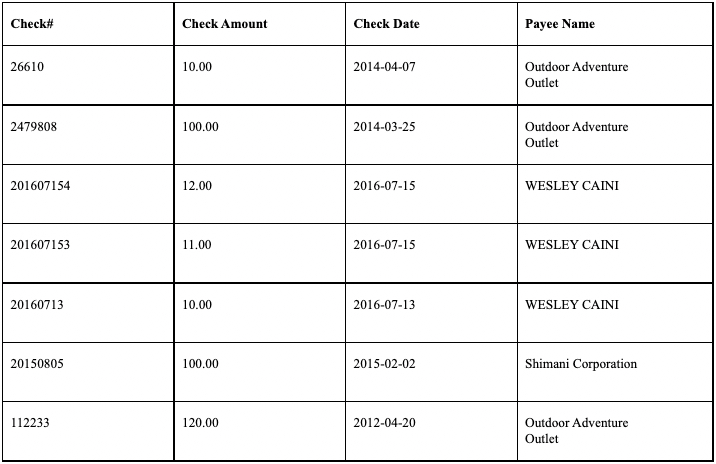 Positive Pay: Suntrust Bank 
Positive Pay: JP Morgan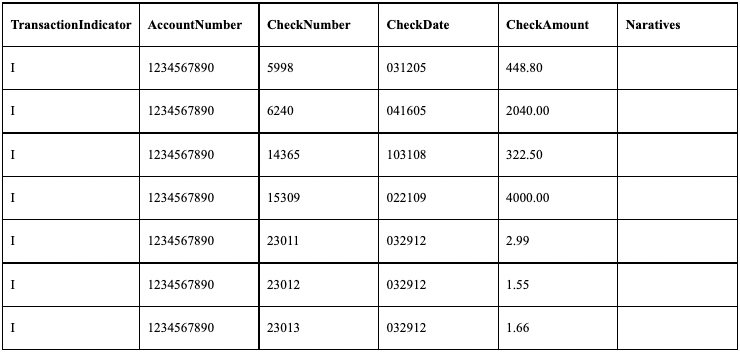 Positive Pay: BMO Harris Bank 

The Leahy software solutions mentioned in this article are:
Lockbox: Imports Cash Receipts into Macola from a file of some sort
Positive Pay: Creates a file for the bank using checks from Macola
eCommerce: Can take files or other data sources and push them into Macola or spit them back out.
PO Generator: Creates POs in Macola (but can use a file for a data source)
Have questions about getting started with Leahy Software? Contact us today.